JC Cinel - "Before my eyes"(Black Widow Records 2007)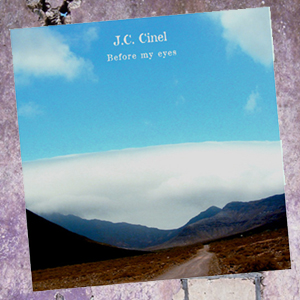 New JC CINEL album where all of his past and present influences are highly represented showing a strong artistic growth.
"Before my eyes" is a perfect blend between acoustic and electric and shows the achievement of a personal and original style where rock, country, blues and prog slowly dance together.
Fine arrangements are the perfect frame for soothing harmony vocals.
"Before my eyes" has been receiving great feedback and so many positive and entusiasthic reviews have come out in magazine and webzines all around the world claimiing "Before my eyes" to be a must for classic rock and "highway sound" lovers.

Listen...
BUY CD DIRECT WITH PAYPAL:

TRACK LIST:
1.SHIPS IN THE WIND
2.FEEL THE MOMENT
3.SWEET DREAM
4.OUT IN THE FRONTLINE
5.DEAR OLD FRIEND
6.INTRO/BRUSH
7.BRUSH MY CYMBALS
8.BEFORE MY EYES
9.WHAT I SEE
10.VOICES FROM NOWHERE
11.ALONE IN THE DARK
12.TAKING CHANCES