JC Cinel - "The light of a new sun"(Andromeda relix / Black Widow Records 2011)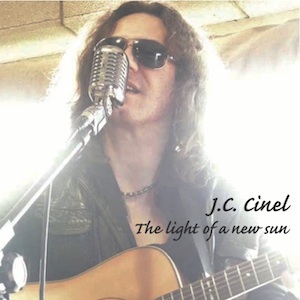 The light of a new sun è il nuovo disco di J.C. Cinel.

Il sound delle 11 tracce presenti risente dei costanti viaggi e tours che hanno arricchito lo stile di J.C. che in questo disco risulta più energico e articolato.

Il risultato della lunga permanenza a Nashwille è la presenza in quattro brani del grande Special Guest Johnny Neel, ex tastierista degli Allman Brothers e Gov't Mule.

Ascolta...
Think of myself
Living on a highway
The light of a new sun
Sweet and wild

ACQUISTA IL CD CON PAYPAL:
TRACK LIST:
1.THINK OF MYSELF
2.WHEELS OF TIME
3.LIVING OF A HIGHWAY
4.THE LIGHT OF A NEW SUN
5.SWEET AND WILD
6.ISLANDS
7.NASHWILLE NIGHTS
8.CALIFORNIA SUNSETS
9.WHITE SOLDIER
10.FALLEN ANGEL
11.A PLACE IN THE SUN