JC Cinel - "The light of a new sun"(Andromeda relix / Black Widow Records 2011)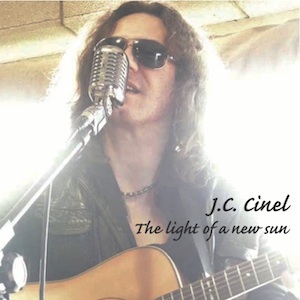 The Light of a new sun is the new JC Cinel's album.

The sound of this 11 tracks record has got that particular feel that comes out of the constant journeys and life on the road which enriched JC's style that turns out to be more energetic and articulated.

The result of long stay in Nashville Tennessee is the special guest star Johnny Neel ex Allman brothers and Gov't Mule who hammond and piano on 4 songs.

Listen...
Think of myself
Living on a highway
The light of a new sun
Sweet and wild

BUY CD DIRECT WITH PAYPAL:
TRACK LIST:
1.THINK OF MYSELF
2.WHEELS OF TIME
3.LIVING OF A HIGHWAY
4.THE LIGHT OF A NEW SUN
5.SWEET AND WILD
6.ISLANDS
7.NASHWILLE NIGHTS
8.CALIFORNIA SUNSETS
9.WHITE SOLDIER
10.FALLEN ANGEL
11.A PLACE IN THE SUN